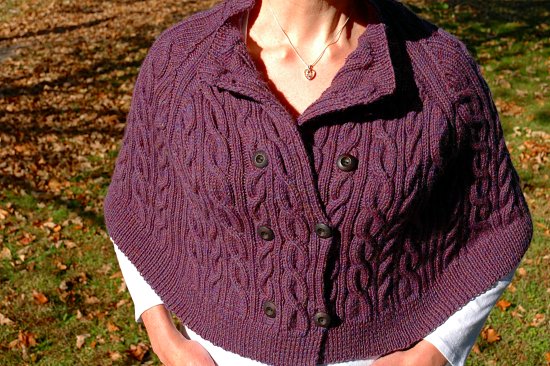 Monday night I cast on Karen's Gothic Leaf Stole ... again. I had managed to get almost seven inches into the shawl, when I dropped a stitch in a very unhappy way sometime last month. This left me with a fairly large pile of tangled lace, and there wasn't much left to do except to frog the entire project and start again. This is when I learned why people place life lines in large lace projects.
Last night I finished the Michael Kors Cape (pictured above) for Karen. It wasn't a particularly difficult project to knit. Unlike the last project that I knit from a magazine, the pattern was almost entirely error-free. The only problem was with the collar shaping, and it wasn't an error so much as that I didn't like the way a purl stitch looked when wrapped in a short row.
When we were at the crafts store looking for buttons, I picked up the most amazing fabric from the waste bin. I found pirate and ghost camouflage fabric to make into needle cases. These will be manly needle cases, YAR!
Karen has also informed me that I will be making two new baby hats for some inbound rugrats.